Lessons in logistics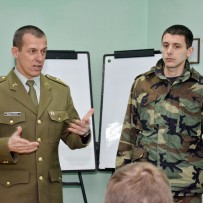 On the 3rd of February 2014 the  Head of Logistics of the University of Defence in Brno, Czech Republic, Colonel Zbyšek Koreck  paid a working visit to Military Academy of the Armed Forces "Alexandru cel Bun".
Head of the department of Military Art  of Military Academy, Lt. Col. Pavel Croitoru said that this visit falls within the context of the objectives implementation assistance of  IPAP of development of the Military Academy "Alexandru cel Bun".
On the agenda of NATO experts are included meetings with the second cycle higher education Master's students and civil servants who are at the postgraduate course in political-military security and defense. Within the lessons there will be discussed  logistics operations planning, logistics preparation steps to ensure quota for peacekeeping operations, stressed Lt. Col. Pavel Croitoru.
However, the visit of Colonel Zbyšek Koreck offers Moldovan students and teachers the opportunity to learn from the experience of Western militaries.