Dragobetele celebrated by students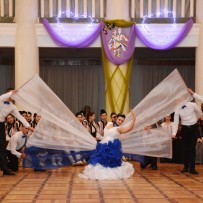 CHISINAU, February 25, 2015 – The students of Armed Forces Military Academy "Alexandru cel Bun" attended the celebration of "Dragobetele" organized at the Centre for Culture and Military History on the 24th of February 2015.
The program included competitions, art performances, fun games and a raffle of lovers. Those present at the event celebrated Love dancing and cheering to the maximum.
Students of the Academy of Music, Theatre and Fine Arts, Technical University of Moldova and the National College of Medicine and Pharmacy "Raisa Pacalo" were also invited to the event.
The evening dedicated to Dragobetele was organized by the Centre for Culture and Military History in collaboration with the Central County of the capital.
Dragobetele is a local celebration of love marked every year on February 24.