German military attaché visited the Military Academy at the end of mandate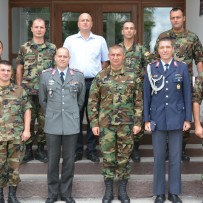 CHIŞINĂU, August 22, 2017 – The military attaché of the Federal Republic of Germany for the Republic of Moldova, headquartered in Bucharest, lieutenant-colonel Marc Ascui, visited the Armed Forces Military Academy "Alexandru cel Bun" on the occasion of the end of his mandate as a military attaché in the Republic of Moldova. During his visit, Mr Ascui was accompanied by the new Defence Attaché of the Federal Republic of Germany, lieutenant-colonel Christian Ziese.
During the visit, the new attaché became acquainted with the history, the development stages of the military institution, the basic objectives and missions, as well as the perspectives for further development of the only higher military education institution in our country.
During the meeting, lieutenant-colonel Christian Ziese said he was impressed by the academy's motivation to make progress, and he is determined to contribute through multiple activities to the development of Moldovan-German relations.
In his turn, the commandant (rector) colonel Sergiu Plop, Military Academy, appreciated the work and professionalism of lieutenant-colonel Marc Ascui and thanked him for the given support to the institution regarding the training of the militaries at various courses.
Mr Plop wished success to lieutenant-colonel Marc Ascui in his future missions and congratulated lieutenant-colonel Christian Ziese on appointment.