Military Academy attended the launch of the project "old and rare books – a new life"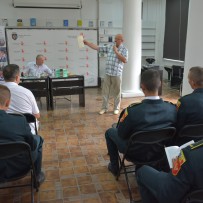 CHIŞNĂU, September 20, 2017 – The students of the Armed Forces Military Academy "Alexandru cel Bun" participated in the Municipal Central Library "B. P. Hasdeu" at the launch of the new project on the re-publishing of valuable works from the old book fund entitled "The old and rare book – a new life".
The book "Romanians and Their Land, Bessarabia" was launched in English version, published in the USA in 1919, signed by Vasile Stoica. The book was presented by the historian, archivist and journalist Alexandru Moraru (the author of the project) and the historian and columnist, Colonel (r) Alexandru Ganenco, founding member of the "Draghistea" Association.
The above-mentioned author emphasized the following: "We hope that our intellectual and financial effort will bring as much intellectual and informational benefits as possible. It is natural for this book to be released in our library because the only copy of this book was found in the Old and Rare Books of the Central Library."
At the same time, during the launch of this publication, the students of the Military Academy were organized a contest in which they had to answer to questions related to national history, and the winners were offered a gift a book "The Romanians and Their Land, Bessarabia".
It is worth mentioning that the Central Library "B. P. Hasdeu" donated to the Library of the Military Academy three copies of the book "Romanians and Their Land, Basarabia" and a copy "In The Labyrinth of Secret Documents", written by Alexandru Moraru.