Student admitted to the Military Academy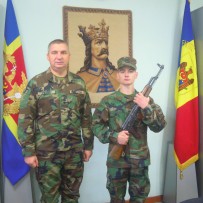 CHIŞINĂU, September 29, 2017 – Student Moraru Ion, enrolled in the Armed forces Military Academy "Alexandru cel Bun", today submitted the Military Oath of Homeland Belief.
The ceremony took place at the Military Academy in the presence of colonel Sergiu Plop, commandant (rector) of the institution, who congratulated Moraru Ion on the occasion of the Military Oath, mentioning that the student must be proud of the choice he did it to make every effort to professional training.
The student is admitted to the first cycle, undergraduate studies in the specialty management of artillery subunits, with the duration of the three-year studies.