Scientists of the academy attended the "Researchers' Night 2013"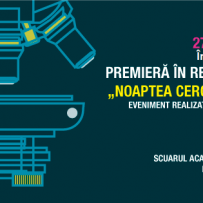 On the 27th of September 2013, for the first time in Moldova was held "Researchers' Night – 2013" that took place in the Square of Academy of Sciences from Moldova.
The event was attended by representatives of the Military Academy of the Armed Forces, "Alexandru cel Bun" scientists, teachers, and students.
It should be noted that, "Researchers' Night – 2013" is an event of science promotion and takes place on the 27th of September at the same time in over 300 European cities.
"Researchers' Night – 2013" is organized within the project MORE4U for the first time in Moldova, and it is one of the most renowned European Union initiatives, bringing together scientists with the general public who have common interests.
"Researchers' Night – 2013", was held under the aegis of the Academy of Sciences, Centre of International Projects and Logistics Agency "Age Quod Agis" with the participation of research institutions and higher education.
The project is supported by European Funds in the context of the 7th  Framework Program of the European Community for Research and Technological Development (FP7 ).